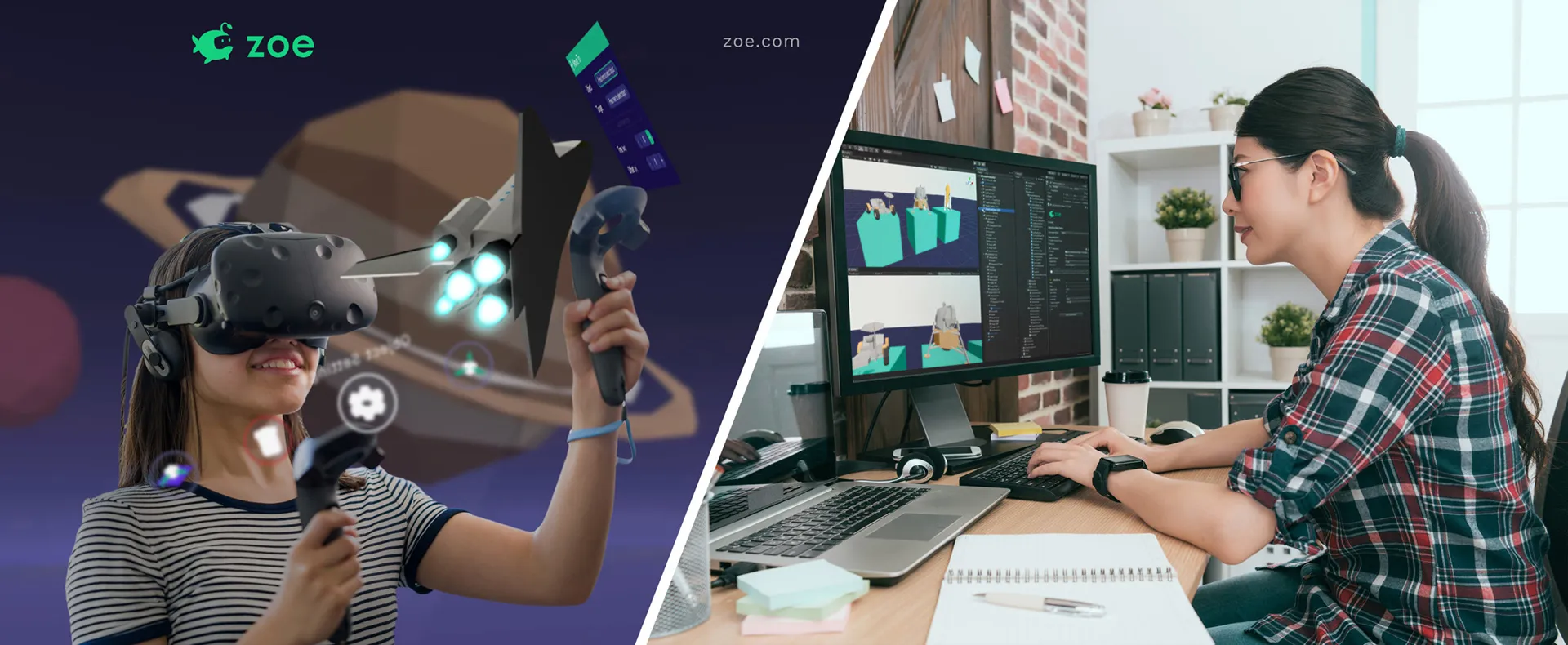 Introducing Zoe: A Remote Learning Solution Allowing Kids To Build Their Own Interactive Immersive Experiences
---
LOS ANGELES - Apelab, a VR/AR software company based in Geneva, Switzerland, and Los Angeles, has launched Zoe, a remote learning solution empowering educators in K-12 & Higher Education to teach interactive 3D, VR/AR creation & programming.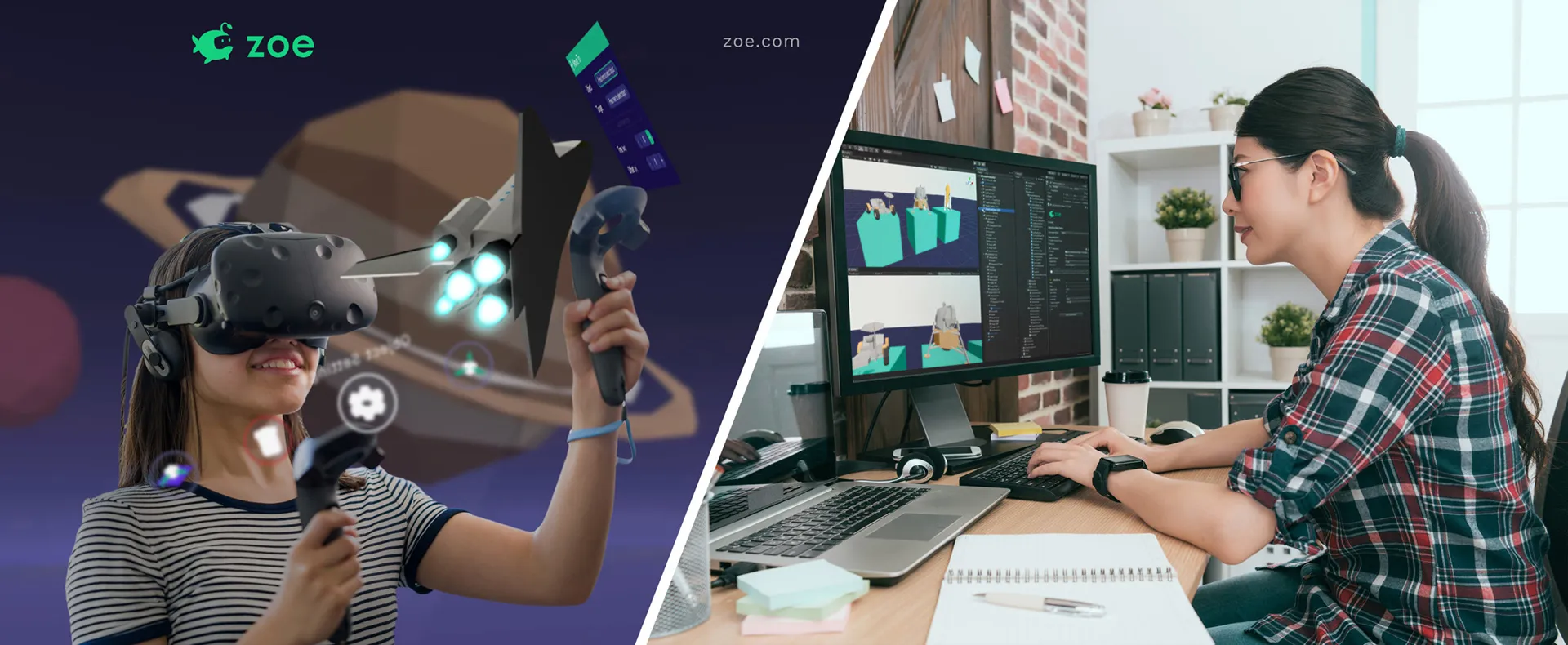 Image of 8th grade student using Zoe VR and College Student using Zoe for Unity. ©Apelab 2020. All rights reserved.
"With a majority of students worldwide working from home, the need for engaging learning solutions is more pressing than ever," said Emilie Joly, CEO of apelab. "Yet, educators are struggling to find solutions that can empower students to become more than passive consumers while learning key skills for the future of work. At apelab we believe immersive technologies are amazing candidates to fulfil that need."
The core team at apelab has been working together for almost a decade. Zoe is the result of years of research, design, and development for new technologies. "You can call the Apelab team pioneers in VR/AR creation and storytelling," said Sophie Lamparter, investor and CEO at Dart. "They have adeptly navigated a nascent space with their own ingenuity and with the right industry partnerships."
With Zoe, students are now able to build entire immersive experiences from scratch, quickly and without any prior coding knowledge.
"The thing that impresses me the most about Zoe is its focus on getting students to create their own experiences" said Jessica Millstone, co-founder of the New York EdTech Meetup & General Manager of Copper Wire Ventures, who also recently joined the team as an investor." For the teacher or school leader who is committed to transforming kids from media consumers into producers of stories that reflect their own dreams and ideas, Zoe is exactly the kind of tool they'll want to make available to their students."
A Unique Visual Programing Software
Zoe features a series of tools that students can download directly from the zoe.com website and a whole section is dedicated to educator training. Professional Learning, tutorials, and resources are available online and cover everything from collaboration to conception, interaction design, storyboarding, prototyping, coding and testing using AR/VR for learning.
Today, Zoe includes a plugin for the popular game engine Unity, and a standalone application for the Oculus Quest. The team believes the best way to create a VR experience is to do it directly from the headset. "To be able to design an experience in the same medium as its target platform makes a lot of sense, and removes a barrier between the creator and the user," said Syl, co-founder and design director. Using the Zoe VR app, students can import 3D models, build their environment and visually program fully interactive experiences.
"Zoe is unique because it's leveraging our internal interaction API tailor-made for immersive technologies," said Maria Beltran, co-founder and head of Product Development. "We had the chance to work with major VR/AR industry partners over the years and we've poured all of our experience into building Zoe."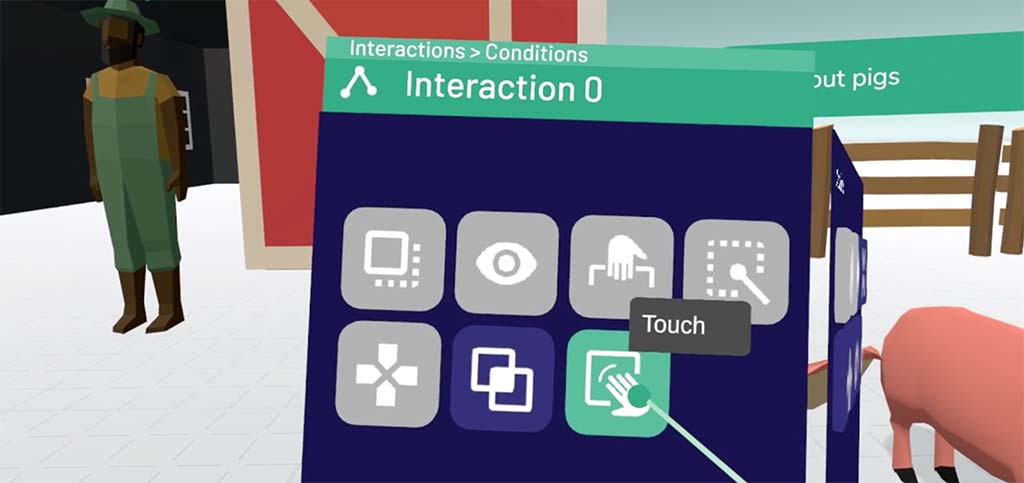 Screenshot of the Zoe VR App interaction menu ©Apelab 2020. All rights reserved.
Students are able to define what will happen to their 3D models when the user does a specific action or a sequence of actions. They can trigger animations, sounds, behaviors based on a dozen different conditions made for VR/AR and an infinite number of actions. At any point, they can test their experience and make the necessary adjustments.
A similar logic can be accessed on the Zoe for Unity plugin which makes it very easy to setup interactive scenes within the popular game engine.
How Schools are using Zoe today
The apelab team is working with a selected group of schools and educators in both the private and public US system. Educators are working on a wide variety of projects in collaboration with teachers in Art, Math, Social Impact, Computer Science classes. "Our 8th graders will be using ZOE to make their Capstone Projects come to life, to promote action, build empathy and foster community around their cause," said Gaspare Lipari, teacher at the Western Middle School in Greenwich.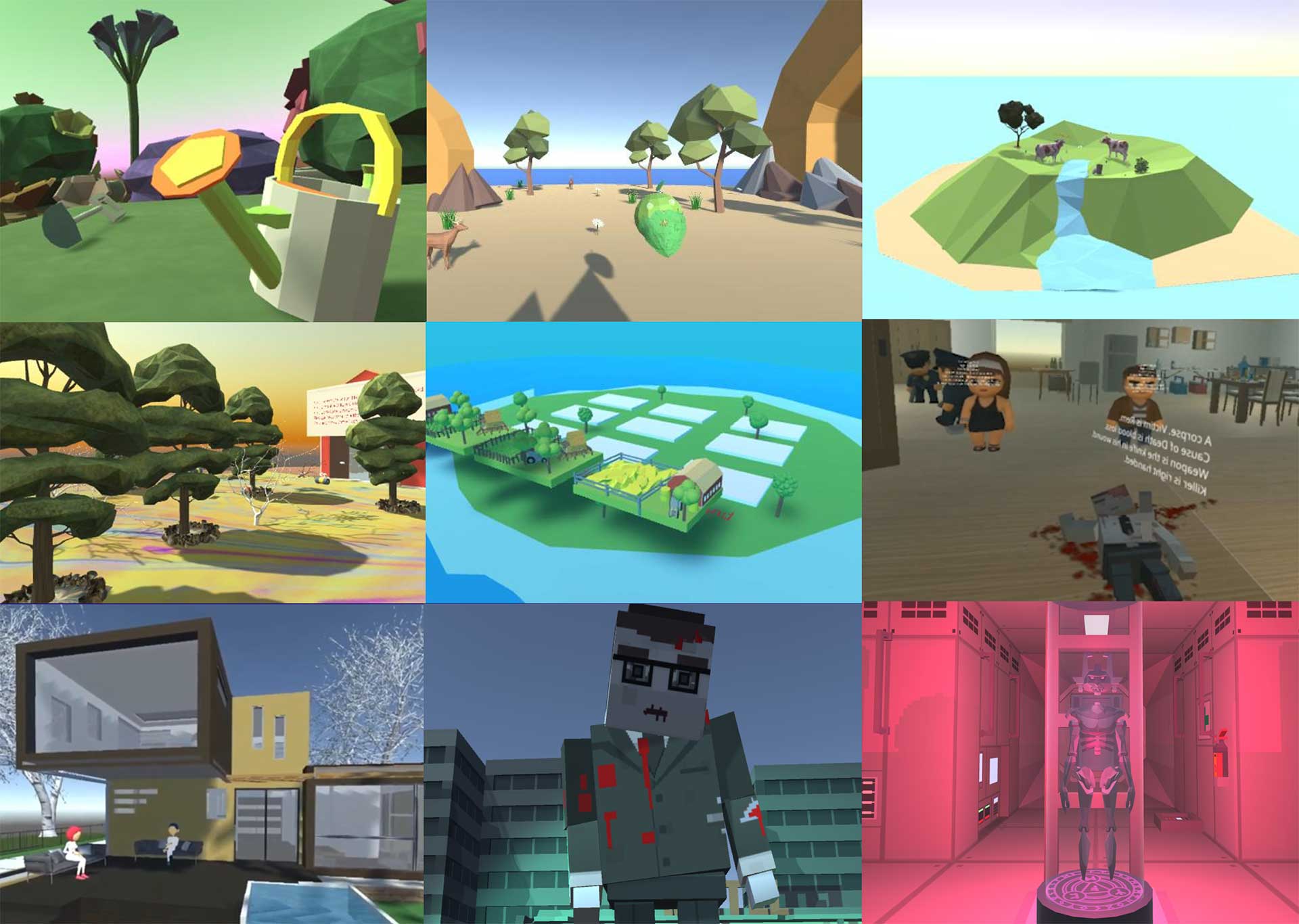 Collection of various Virtual Reality projects made by students using Zoe for Unity. ©Apelab 2020. All rights reserved.
Last year, the San Diego Jewish Academy organised summer camps with students from China and the US. Led by educator Kwaku Aning, teams of students from 12 to 16 years old were able to build AR and VR experiences in a matter of days using a beta version of Zoe for Unity. From a sustainable gardening simulator to a training program helping farmers clean their polluted soil, students learned how to transform their ideas into stories and games, successfully transmitting their knowledge to others.
At Rutgers Prep, several educators are gearing up to use Zoe with their students next fall. "We strive to take our students from consumers to creators in all areas of the curriculum," said Kevin Merges, Director of Innovation. "We are particularly excited about the integration of Google Poly assets and have purchased a 3D scanner to incorporate real world assets into Zoe. This is going to be an exhilarating adventure for our school community."

Image showing how the Mobile version will work remotely with the Virtual Reality App. ©Apelab 2020. All rights reserved.
Apart from regularly adding functions to their already available tools, the apelab team is developing a mobile version of Zoe which will be fully compatible with the VR application and reduce the need for each student to have a headset to work on immersive projects. Multi-user functionalities are also in the works to allow students to build together from anywhere in the world. Educators around the world will have access to a complete set of software tools and a collaborative platform of shared knowledge and resources around immersive technologies supporting students from 6th grade up to higher education.
"With the growing amount of XR within all aspects of our lives (advertising, sports, entertainment) it is becoming increasingly important for students to take on the roles of creators of this content instead of consumers," said Kwaku Aning, Center for Innovation and Entrepreneurial Thinking (CIET), SDJA. "Zoe is an amazing tool that will empower the creativity of students in every school and help them to establish themselves as creators within the new work economy."
The apelab team was recently awarded an Epic Mega Grant to support the development of Zoe. The team plans on using the grant to help build some of the most pressing functionalities needed by the teachers.
The COVID-19 pandemic has forced most schools around the globe to close their doors, and teachers to adapt their work. During these difficult times, the team at apelab wants to facilitate access to Zoe as much as they can. If you are an educator, a student, or have any role in an educational institution, you can now subscribe on www.zoe.com. Discounted professional learning subscriptions for educators and free student licenses are available until the end of June.
---
Apelab has been working in the AR/VR space for over 6 years. They dedicated their time to building a robust interaction engine for immersive computing by collaborating on projects with industry hardware companies like HTC, Google or Oculus. Today apelab is 200% dedicated to bringing immersive creation to students and educators around the world and help future generations to become creators of a brave new world!